The costs of obesity to the health care system are plastered across the headlines — and yet, few recognise that the financial impact of caring for wounds is similar to that of obesity.[1]
In fact, an estimated 2–4% of healthcare expenditure across Europe is eaten up by wound care.[2] A lot of this wound care takes place in the community, with >9 million dressing products prescribed — at a cost of £184 million — in England in 2012 alone.[3]
With increasing population sizes, and aging ones at that, the number of chronic wounds in need of treatment is likely to increase.[4]
In particular, the incidence of diabetic foot ulcers (DFUs) may also become a greater economic burden as the prevalence of type 2 diabetes rises.[4]
Where do the costs come from?
Increased ancillary costs
Among the most costly wounds to the NHS are venous leg ulcers (VLUs), pressure ulcers (PUs) and DFUs.[4] A real-world, UK-based study comparing the resource use of patients with wounds to those without, found that in 2012–13, around 2.2 million wounds were cared for by the NHS.[1]
The cost of this was estimated at over £4.5 billion, not accounting for the care of comorbidities or costs undertaken by patients themselves — and not including indirect societal costs arising from work absenteeism.[1]
The provision of devices and diagnostic tests was also greater for these patients.[1]
Time
Studies based in several countries show that the time needed by nurses to care for wounds is a large expense.
In a Swedish community with a typical wound prevalence of 2.4 wounds per 1000 population, the equivalent of 57 full-time nurses was needed for dressing changes alone.[5]
In Ireland, up to 66% of community nursing time is taken up by wound care.[6,7]
The frequency with which dressing-changes are needed is a big resourcing concern, making dressing choice a vital consideration.
Dressings that require fewer changes — or, more importantly, actively help heal wounds more quickly — may not only cost less but also provide patient benefits through reducing trauma around the wound area as well as fewer impositions on everyday life.
Further, the reduction in time spent by nurses in tending to wounds can instead be used on other vital care activities.[8]
Inappropriate wound-healing products
Using the wrong dressing or wound-healing product for the patient and wound can lead to infection, complications and stalled healing — all of which increase wound care costs.
Non-healing wounds are frequent, and increase wound care costs exponentially.[4]
This lack of healing might be related to incomplete assessment and inappropriate treatment plans, such as using only standard of care for prolonged periods of time, an issue observed in several countries.[4]
Nipping costs in the bud
Many of these cost drivers are preventable. Thorough, holistic assessment with a plan for regular reassessment is the foundation that prevents escalating costs by ensuring the wound management plan is complete and appropriate.
The management plan should include both strategies for addressing the underlying aetiology of the wound, as well as the choice of dressing or wound-healing product.
However, most patients with a wound lack a differential diagnosis, and only 16% of patients with a leg or foot ulcer receive a Doppler ultrasound assessment, despite its use being best practice under national guidance.[1]
These failings point towards a need for improved systems of care, including improved management of resources, the need for greater specialist referral and improved training of non-specialists.[1]
Choosing an appropriate dressing for a wound is also vital. This choice might change over time as a wound heals, or deteriorates, so repeated re-evaluation of the suitability of a dressing is needed.
In stalled or challenging wounds in particular, a more active wound-healing product may be required.
For example, Woulgan Bioactive Beta-Glucan Gel advanced wound dressing can help save costs compared to standard dressings as more wounds will heal with the use of Woulgan compared to standard care, thus saving time and associated healthcare costs.[2,9]
For healing one ulcer over the course of a year, compared to standard care, Woulgan can save more than £1000.[2,9]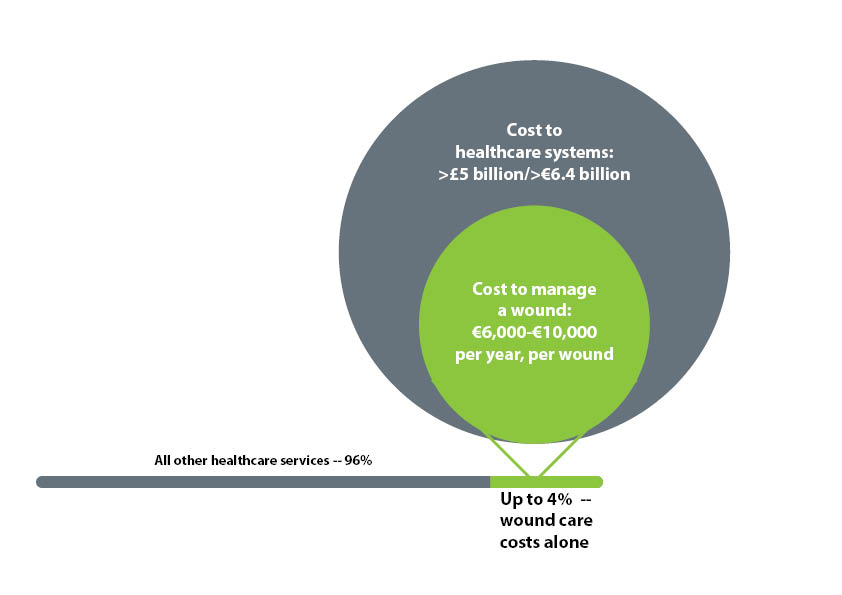 Improved assessment, diagnosis, treatment by healthcare professionals who are experienced or trained in wound care, and the use of appropriate dressings can make economics of wound treatment more efficient.
Although wound management is predominantly nurse-led, the involvement of specialist nurses, such as tissue viability nurses, is low.[1]
This may stem from a lack of clarity around the role of these nurses, yet application of the specialist knowledge of advanced practice wound care nurses — such as tissue viability nurses — can actually help reduce costs over the course of patient care.[1,10]
Prevention is the final key. Given that one in five hospital inpatients develops a PU, the use of early mobility programs, pressure-offloading tools and regular nurse checks may be used to pre-empt wound development.[4,11]
Screening and risk stratification for people at risk of developing a DFU may also be effective, along with multidisciplinary efforts to spot people who may be at risk of wounds related to vascular insufficiency in the limbs.[12,13]
Clinical and economic benefits go hand-in-hand, providing patients better care while improving the quality of care in the NHS.[1]
---
References
Guest JF, Ayoub N, McIlwraith T. Health economic burden that wounds impose on the National Health Service in the UK. BMJ Open 2015;5(12):e009283.
Woulgan. Health economics and quality of life. Accessed October 2016 at: http://woulgan.com/about/health-economics-and-quality-of-life/
Cullum N, Buckley H, Dumville J, et al. Wounds research for patient benefit: a 5-year programme of research. Programme Grants for Applied Research, No. 4.13. Southampton, UK: NIHR Journals Library, 2016.
Posnett J, Franks PJ. The burden of chronic wounds in the UK. Nurs Times 2008;104(3):44–5.
Lindholm C, Bergsten A, Berglund E. Chronic wounds and nursing care. J Wound Care 1999;8(1):5–10.
Clarke-Moloney M, Keane N, Kavanagh E. An exploration of current leg ulcer management practices in an Irish community setting. J Wound Care 2006;15(9):407–10.
Clarke-Moloney M, Keane N, Kavanagh E. Changes in leg ulcer management practice following training in an Irish community setting. J Wound Care 2008;17(3):116–21.
Bale S, Squires D, Varnon T, Walker A, Benbow M, Harding KG. A comparison of two dressings in pressure sore management. J Wound Care 1997;6(10): 463–6.
Zykova SN, Balandina KA, Vorokhobina NV, et al. Macrophage stimulating agent soluble yeast b-1,3/1,6-glucan as a topical treatment of diabetic foot and leg ulcers: A randomized, double blind, placebo-controlled phase II study. J Diabetes Investig. 2014;5(4):392–9.
Teague LM, Mahoney JL. Cost-effective wound care: How the advanced practice nursing role can positively affect outcomes in an acute-care setting. Wound Care Canada 2004;2(1):32-3
Pashikanti L, Von Ah D. Impact of early mobilization protocol on the medical-surgical inpatient population: an integrated review of literature. Clin Nurse Spec 2012;26(2):87–94.
Wodbury MG, Sibbald RG, Ostrow B, et al. Tool for rapid and easy identification of high risk diabetic foot: Validation and clinical pilot of the simplified 60 second diabetic foot screening tool. PLoS One. 2015; 10(6): e0125578.
Wounds UK Consensus. Guidelines for practice: Optimising venous leg ulcer services in a changing NHS. London: Wounds UK, 2013